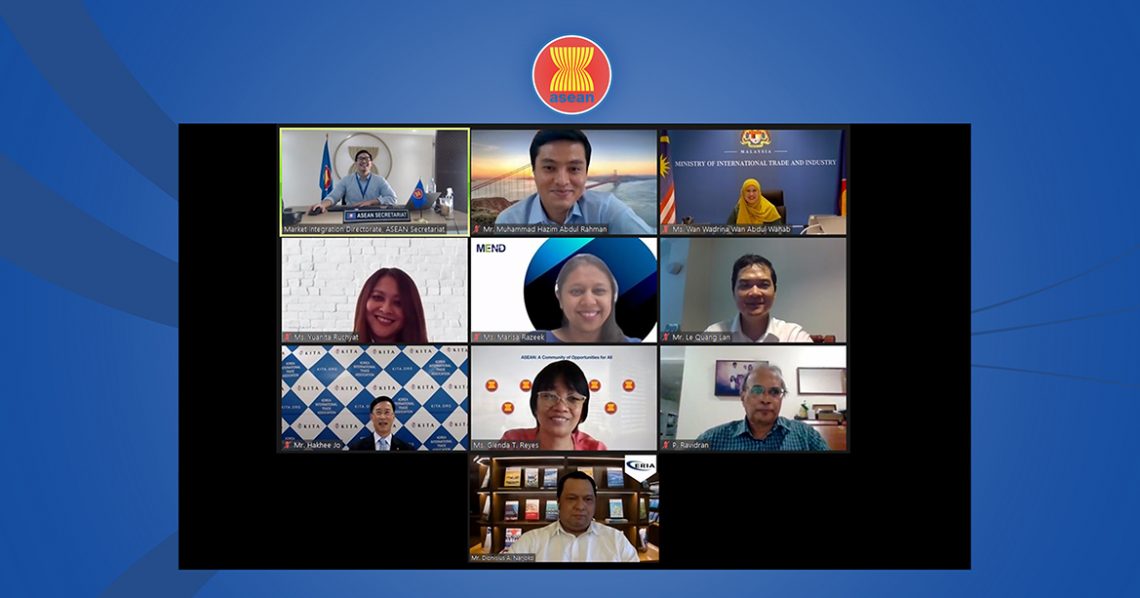 JAKARTA, 12 October 2021 – The ASEAN Secretariat in collaboration with the East Asia Business Council, held the third round of the "Unlocking RCEP for business" webinar series, focusing on the Trade in Services chapter of the Agreement.
Trade in services is becoming increasingly important for ASEAN Member States (AMS) as it represents between 38 % to 69 % of gross domestic product (GDP) of AMS.
The sector has also been the largest recipient of foreign direct investment (FDI) inflow to ASEAN in the past 15 years. The RCEP is expected to help trade in services in the region to grow even further.
In his opening remarks, Chair of the East Asia Business Council for 2021, Hakhee Jo highlighted the benefits accruing from the RCEP. In his remarks, he emphasised that, "service suppliers from RCEP Participating Countries will enjoy greater market access, transparency and predictability of regulations affecting trade in services."
The panellists and speakers of the webinar, many of whom were involved in the negotiations of the RCEP Agreement, discussed the commitments made under the RCEP, which go beyond the General Agreement on Trade in Services (GATS).
The speakers provided explanations for businesses to navigate the rules on market access, national treatment, most-favoured-nation treatment, and local presence.
Panellists further discussed the three sectoral Annexes of the Trade in Services chapter, which include financial, telecommunications, and professional services. The webinar also covered the commitments to facilitate the temporary movement of persons involved in trade, supply, services, or investment.
A key takeaway from the discussions is how the Trade in Services chapter of the Agreement can create an enabling environment whereby micro, small, and medium enterprises in the region can expand their businesses.
The webinar was broadcasted live through the ASEAN Secretariat's YouTube channel. The recorded session is available through this link.
This article was published in https://asean.org/ with the title "Asean on track to ink world's largest trade pact at summit". Click to read: https://asean.org/experts-project-trade-in-services-to-grow-under-rcep-agreement/